Laatste update
Ongeveer een jaar geleden las ik het eerste boek van Marie Kondo: The art of tidying up en eerlijk gezegd… ik was er niet echt gek op. Waarom? Ik vond het ten eerste best wel zweefteverig overkomen en het was echt alleen maar tekst. Ergens begreep ik niet zo goed waarom het zo'n hit was. Dus liet ik het maar bezinken en ik probeerde mijn kasten wat op te ruimen met de KonMari methode, wat op zich wel lukte, maar ik kon het niet volhouden. Enkele weken geleden zag ik bij de boekhandel haar nieuwe boek liggen, en het sprak me al veel meer aan. De cover is erg mooi, vind ik. En daarnaast zijn er ook veel meer afbeeldingen in, wat het boek een heel stuk lichter maakt. Maar de toon, die is nog steeds heel zweverig. En het gekke, het stoorde me helemaal niet meer! Waarschijnlijk omdat ik zelf ook veel minimalistischer geworden ben: ik heb veel kleding verkocht of weggegeven, ook mijn make-upstash is de afgelopen jaren echt veel minder geworden. Mijn grote regel die ik onbewust eigenlijk al gebruikte: 'word ik er eigenlijk wel blij van'?
Marie Kondo: Spark Joy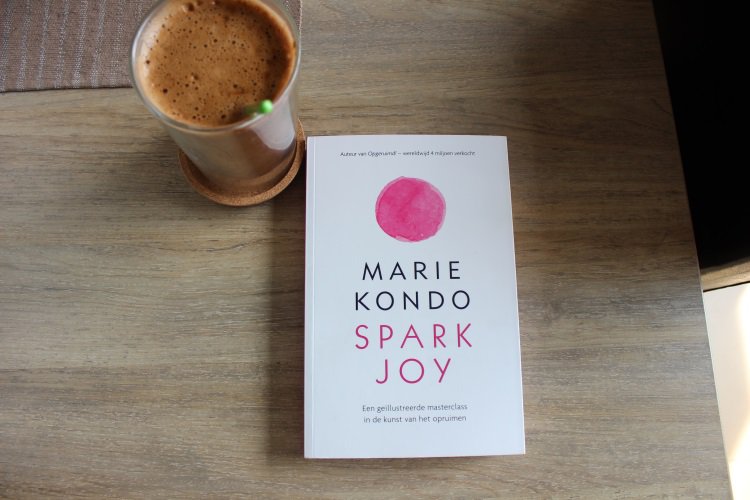 Does it spark joy?
En laat dat net de filosofie van Marie Kondo zijn: kijk naar je spulletjes, voel er nog eens aan en voel ook aan of je er eigenlijk blij van wordt. In mijn kledingkast kan ik dat eerlijk gezegd al wat beter toepassen dan in bijvoorbeeld mijn keukenkasten waar ook veel moet-ik-hebben-maar-ik-word-er-niet-superblij-van-items heb. Maar echt waar, het is een hele goede regel, vind ik!
Ik begon het al enkele jaren geleden stilletjesaan toe te passen in mijn makeup-stash: ik hield alleen de kwaliteit over, niet de kwantiteit. Hele collecties van Essence, Catrice,… gingen uit mijn stash en ik begon wat meer te investeren in iets duurdere en betere producten. Niet dat ik daarmee wil zeggen dat ik dat geen goede merken vind, integendeel – ik ben gek op de foundations van Catrice en hun blushes en de lipsticks van Essence – maar ik heb gewoonweg geen 35 mono oogschaduwen nodig als ik ze niet gebruik. Vorig jaar begon ik dan ook wat geld te investeren in bijvoorbeeld mooie Z-palettes, Make-Up Geek oogschaduw en een palette Mac blushes. En eerlijk gezegd: ik ben daar nog altijd superblij mee! Ik heb mijn palettes op mijn vanity gezet en ik word er echt blij van als ik naar die collectie kijk. Oppervlakkig? Misschien, maar ik werk er had voor en ik gebruik bijna iedere dag make-up, en dan is dat gewoon heel fijn. Dus: does it spark joy? Hell yes!
Stilletjesaan wil ik het meer en meer gaan toepassen in mijn leven zodat ik toch zeker voor 80% alleen nog maar dingen heb waar ik echt blij van word. Terug wat meer respect geven aan die spulletjes, zeg maar! Ik vind dit boek echt een énorme aanrader: je gaat echt terug veel meer mindful om met de spulletjes in je leven en begint een heel andere blik te krijgen op alles. LOVE IT! Zo vaak las ik dat dit boek je leven veranderde, en echt… dat doet het! Beste 19 euro die ik onlangs uitgaf!
Ik heb dit boek besteld bij Bol en had het de volgende dag al in huis, héérlijk 🙂