Laatste update
Kapsels voor nieuwjaar – Je gaat Oud & Nieuw (of nieuwjaar) vieren en je hebt geen idee wat je met je kapsel moet aanvangen? Geen nood, wij hebben nog snel enkele mooie kapsels gevonden die je in een handomdraai kan maken. Deze feestkapsels zijn snel en handig zodat jij je geen zorgen meer hoeft te maken over je haar! Bekijk deze nieuwjaarskapsels en kijk met welk knallend kapsel jij graag het nieuwe jaar in gaat!
Nieuwjaarskapsels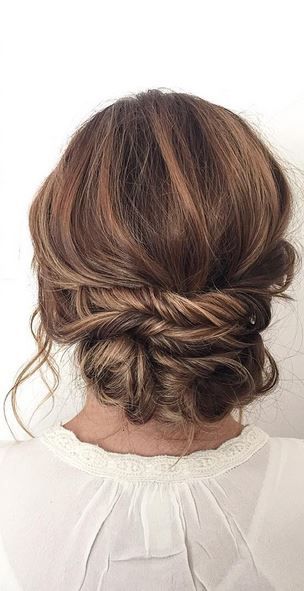 Een opsteekkapsel maak je net dat tikje glamoureuzer door er een mooie armband of ketting door te weven/ omheen te wikkelen.Prachtig opsteekkapsel van  Lauren Conrad (S. Bukley via shutterstock.com) Dit is een heel classy nieuwjaarskapsel, zo mooi!
Supersnelle nieuwjaarskapsels
Een prachtige vlecht , staat mooi met deze witte jurk (Malyugin via shutterstock.com). Dit soort nieuwjaarskapsels kan je heel goed combineren met een cute jurk, of evengoed met een hele vampy look, de keuze is aan jou!
Een half opgestoken kapsel (half updo) staat altijd heel classy en feestelijk. Krul je haren, maak een waterfall braid en steek dan de helft van je haren op, easy as that! (Alter-Ego via shutterstock) 
Je haren krullen: snel gedaan, classy resultaat!
Katie Holmes heeft hier een prachtig nieuwjaarskapsel (S Bukley via shutterstock.com): ze heeft haar haren gekruld (en wat heeft ze prachtig verzorgd haar, wauw!). Om deze look helemaal af te maken, gebruik je een glansspray of een voedend serum in de punten van je haar. Et voilà, een superclassy nieuwjaarskapsel (of oudjaarskapsel, natuurlijk) om het nieuwe jaar te vieren!
Heb je heel weinig tijd voor je kapsel? Maak dan je haren steil met een steiltang (stijltang?) en als je tijd hebt, krul je de puntjes. Als Lauren Conrad herself met zo'n prachtkapsel kan verschijnen, kunnen wij dat ook! Deze kapsels passen bij de meeste feestjurkjes of galajurkjes. Hebben jullie al een outfit klaarliggen om knallende het nieuwe jaar in te gaan? (S. Bukley via shutterstock). Werk dit kapsel ook zeker af met een beetje glansspray voor een nog veel mooier effect!