Laatste update
Ik heb te weinig kamer voor mijn spullen. Oké, eerder omgekeerd… Te veel spullen voor mijn kamer. En quite frankly, ik word er onnozel van. Het geraakt hier amper nog opgeruimd, er ligt altijd wel spul te slingeren… dat moet veranderen! Enter mijn nieuwe challenge: bye-bye 5 things. Come again? Ik ga iedere dag 5 stukken selecteren die linea recta de prullenmand ingaan, of die ik aan een tweedehandswinkel schenk.
Declutteren!
De regels: – als je iets weggooit wat nog bruikbaar is, gaat het naar een goed doel/ tweedehandswinkel/kringloop – spullen die ik verkoop (blogsale etc) tellen niet mee – spullen die op gaan (shampoo,…) tellen ook niet mee
Voorlopig heb ik er al 4 dagen opzitten, en dit is wat al uit huis is:
Dag 1:
Hoe erg ik ook van mijn Cosmopolitans hou, ze nemen te veel plaats in! Dus besloot ik alle artikels/foto's die ik interessant vond, eruit te scheuren voor in mijn knipselmap. 5 magazines minder en direct meer plaats in de boekenkast! Dag 2 en 3:
Ik had geen idee wat er weg zou gaan, tot ik zin kreeg om nog eens een jeansbroek te dragen (ik draag tegenwoordig veel vaker jeggings of chino's) en boy, viel dat tegen! Vorig haar had ik tijdens de sale wat leuke jeansbroeken gescoord bij H&M, maar die zaten me voor geen meter meer (hallo hangkont!) of ze waren al wat ouder en dus te klein 😉 Na een hoop gewriemel en gepas (herinneren jullie het artikel over skinny jeans nog? Dat, maar tien keer erger :p) had ik eindelijk besloten: ik ging 10 jeansbroeken weggeven aan een tweedehandswinkel/ goed doel,…
Dag 4: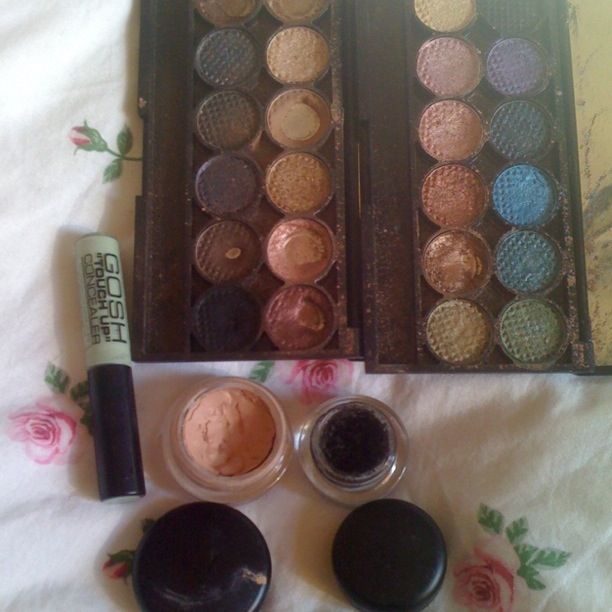 Ze zeggen wel dat je make-up kan ontsmetten, maar ik durf geen risico's te nemen met mijn ogen. Dus toen ik onlangs mijn geliefde Sleek Storm-palette opendeed en tot het besef kwam dat ik dit geweldige palette alweer 2 jaar aan het gebruiken was, vond ik het toch tijd om het weg te gooien. Samen met nog andere oude make-up die ik niet meer gebruik omdat het te oud is. Zo gaan ook het Sleek Original-palette weg, mijn MAC Painterly paint pot (die toch niets uithaalde op mijn oogleden) die een jaar oud is en bijna iedere dag gebruikt, en mijn MAC blacktrack gelliner (3 jaar oud en tot mijn grote schaamte 2 weken geleden nog gebruikt, met traanogen als gevolg). Als ik deze challenge nu 30 dagen volhou, zal ik 150 spulletjes armer zijn. Ik vraag me ontzettend af of ik het zou merken en of het me misschien zo goed zou bevallen dat ik er na deze 30 dagen nog langer mee zou doorgaan. Is het wat voor jullie?
Tussenstand vandaag 9 september: -20 spullen!   Wil je dit graag live meevolgen? Volg me dan op Twitter!