(Last Updated On: April 23, 2017)
In maart sprak ik met mezelf af dat ik een project 10 pan moest doen, ook al hou ik daar eigenlijk helemaal niet zo van. Enkele producten had ik al in gebruik sinds ik op mezelf ging wonen op 1 september 2013 en het werd dus echt dringend tijd om ze op te gaan maken. Hoe staat het nu met mijn project pan?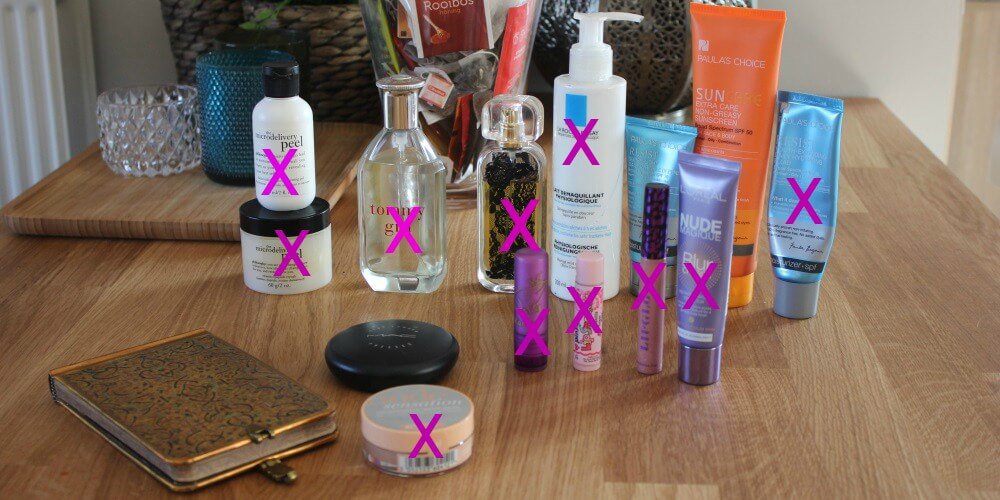 Ik vind het echt goed gaan!
MAC blot powder: ga ik misschien weggeven, ik gebruik het niet meer en misschien vind iemand het nog leuk om gewoon eens te testen
Philosophy the microdelivery peel: op
Tommy Girl parfum: op
Lipsmackers: op
H&M lipgloss: op
Efteling lippenbalsem: op
L'oreal blur cream: op
Hunkemoller Noir parfum: op
Paula's choice SPF zonnecreme: nog mee bezig… maar ik moet dringend opzoeken of ik hem misschien deze zomer niet gewoon kan gebruiken
Paula's Choice getinte dagcreme: ik combineer deze met de zonnecreme omdat ik hem iets te droog vind voor mijn huid, werkt prima zo!
Paula's Choice dagcreme lotion: op
La Roche Posay reinigingsmelk: op
Bourjois foundation: weggegeven, was een compleet verkeerde kleur
notitieboekje van Paperblanks: ik zit op 3/4e! 🙂
Zo, ik kan niet wachten tot ik alles opgebruikt heb 🙂 Voorlopig heb ik nog best veel producten die op dieren getest zijn, dus maak ik die verder op.