Laatste update
Helemaal in het begin toen ik begon te werken, had ik veel last van het 'te veel maand aan het einde van mijn geld-syndroom', en toen woonde ik gewoon nog thuis. Je kan je afvragen waar al dat geld toen bleef… (ik denk: in mijn kleerkasten, makeuplades en schoenenkast). Nu ik daarop terugkijk, ben ik heel blij hoe dat de afgelopen jaren veranderd is. Ook al woon ik nu alweer 3 jaar op mezelf (alleen, dat is redelijk belangrijk voor dit artikel), toch lukt het me normaal gezien iedere maand om te sparen terwijl ik ook gewoon maar een erg modaal loon heb. De laatste maanden kon ik niet sparen omdat ik met een hoop kosten zat met mijn pols (RSI – tendinitis de Quervain- , het moest na 3 maanden ook geopereerd worden, maar dat verhaal vertel ik later nog), maar nu ik weer aan het werk ben, hoop ik snel weer mijn opgemaakte buffer aan te kunnen vullen. En mijn tips, die lees je hieronder:
De latte factor
Op alle spaarblogs (vooral de Amerikaanse) lees je over de Latte Factor: het geld dat je uitgeeft aan alledaagse dingen, in het Amerikaanse voorbeeld vaak een dagelijkse koffie bij Starbucks. Nu, in mijn ogen is het dom om daar veel geld aan uit te geven en denk ik eerlijk gezegd niet dat er veel Belgen en Nederlanders zijn die iédere dag een koffie oid gaan halen, maar je kan het natuurlijk ook doortrekken naar andere kleine uitgaven. Ga je regelmatig tussen de middag een broodje halen? Koop je iedere week bij het Kruidvat een nieuwe lipstick/gloss/… van een goedkoper merk om het gewoon eens te testen? Tel al deze uitgaven op per maand en bekijk het op jaarbasis: ik garandeer je dat je achterover valt. Mijn tip: hou een maand lang al je uitgaven bij: je gaat echt versteld staan van alle kleine beetje die – oh cliché – echt een groot verschil maken. Mijn oplossing: ik spaar nu voor make-up die ik graag wil (en waarvan ik weet dat het niet na een paar weken in de prullenmand ligt wegens 'te meh'), ik neem mijn restjes eten mee naar het werk of maak wat boterhammen.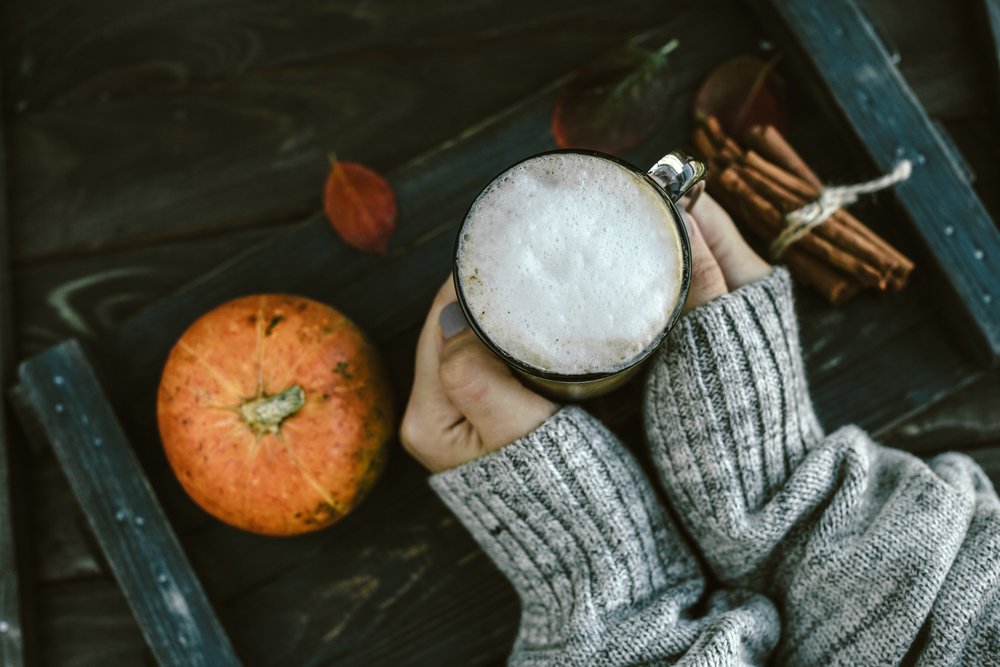 latte / Boiarkina Marina (via Shutterstock)
Boodschappen
Ook met boodschappen doen heb ik mijn lesje echt wel geleerd: voor bijzondere dingen ga ik nog naar bijvoorbeeld de Delhaize of Carrefour, voor alle basics ga ik het liefste naar de Lidl (het fruit en de groenten bij Aldi zijn zo waterig, bah). Hier moet ik soms nog wel leren om niet te veel ineens te kopen (ik kan niét tegen voedselverspilling) en niet te veel ineens te willen koken terwijl er nog veel in mijn diepvriezer zit.
Je auto…
Stel jezelf ook zeker eens de vraag of je wel echt een auto nodig hebt. Geen populaire mening, ik weet het. Of is die extra auto echt nodig? Ik heb zelf geen auto en ik kan heel eerlijk zeggen dat dat voor mij zeker een van de factoren is waardoor ik op mezelf kan wonen. Als ik echt een auto nodig heb, mag ik die van mijn vader lenen (of leuker nog: komt hij ineens mee zware boodschappen doen en hebben we nog een beetje vader-dochtertijd). Voor mij was de beslissing natuurlijk ook snel gemaakt omdat ik anders ook een parkeerplaats zou moeten huren iedere maand en ik sowieso néver met de auto iedere dag naar Antwerpen wil gaan (ik heb een woon-werkabonnement voor het openbaar vervoer dankzij mijn werkgever) en in de file wegrotten.
Zorg voor meerdere spaarrekeningen
Huh? Meerdere spaarrekeningen? Yup! Ik doe dit nu al enkele jaren en zou nooit meer terugwillen naar 1 spaarrekening. Ik heb een 'grote' spaarrekening waar het grootste bedrag op staat, en daar moet ik echt proberen om er niet aan te komen. Daarnaast heb ik een soort van courante spaarrekening (je weet wel , het soort waarbij de banken het liefst van al onder nul zouden gaan qua rente) waar ik mijn buffer op zet. Ik was nét aan mijn buffer geraakt voor de tandarts (die man mompelt al lang dat ik ooit een nieuwe kroon ga moeten laten steken, en die krengen zijn duur) toen het hele polsgedoe jammer genoeg gebeurde… wég buffer. Maar doordat je meerdere spaarrekeningen hebt, kan je het grootste gedeelte van je spaargeld vastzetten: dan krijg je tenminste nog iéts van rente op je zuurverdiende spaarcentjes.
Spaarvarkentje / Feasbp via shutterstock   Ziezo, dit is het eerste artikel in een hele reeks tips om te besparen en meer te kunnen sparen. Hope you like it!