Laatste update
Highlights bruin haar: Bruin haar is leuk maar misschien soms een beetje dof: highlights in bruin haar zorgen ervoor dat jouw kapsel weer levendiger wordt. Blonde highlights of bruine highlights (mèches/ coupe soleil)  in bruin haar zorgen weer voor wat extra pit in jouw haren en geven meer dimensie. Heb je wat extra inspiratie nodig? Bekijk deze leuke kapsels dan eens:
Highlights bruin haar: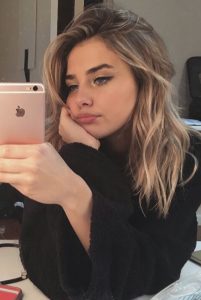 bron 1: https://www.pinterest.com/pin/495044184035432693/
bron 2: https://www.pinterest.com/pin/351210470941529821/
Highlights of mèches in bruin haar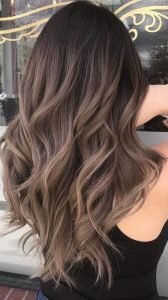 https://www.pinterest.com/pin/314618723969352729/
https://www.pinterest.com/pin/841399142860600863/
Zelf highlights in je haren verven?
Wil je graag proberen zelf highlights te zetten in je haren? Eigenlijk is dat helemaal niet zo moeilijk, ik heb het zelf ook enkele keren gedaan. Bij Kruidvat kocht ik dan eerst de bruine haarverf waarmee ik eerst mijn haar in de basiskleur verfde. Daarna gebruikte ik blonde haarverf met waterstofperoxide voor de highlights en zorgde voor veel kleine highlights om dat streperige effect te voorkomen. Bij sommige stukjes haar liet ik de verf wat langer zitten (dan werd het blonder), andere plukjes haar kregen amper verf, maar werden dan lichtbruin. Zou je graag highlights in je haar willen maar wil je geen duidelijke, opvallende strepen in je haar?
Vraag dan aan je kapper of hij/zij verschillende tinten highlights in je haren wil zetten, zo krijg je erg natuurlijke highlights. Je kan ook bij je kapper vragen om een balayage of om de highlights in je kapsel te zetten freehand: dat wilt zeggen dat ze niet met een kapje werken met gaten erin, maar uit de vrije hand de highlights zetten. Het resultaat is dan een heel natuurlijk kapsel met highlights, dat echt heel mooi en natuurlijk staat. Je laat de highlights het beste zetten door een professional, zo ben je er zeker van dat de highlights niet doorbloeden naar een andere laag in je kapsel, of het er niet uitziet alsof je iedere centimeter een highlight in je haren hebt. Ook heel erg mooi zijn "face framing highlights" die ervoor zorgen dat je gezicht wat meer opvalt.
Kapsels met highlights: laat het aan een professional over!
Kleine tip van ons hier: laat je highlights altijd door een professional in je haren verven! Doe je dat niet, staan we zeker niet in voor de gevolgen 😉 Het is al moeilijk om highlights in blond haar te verven, laat staan om mooie highlights in bruine haarkleuren te krijgen. Waarom? Wel, als je bruin haar lichter maakt, komt er pigment los. Afhankelijk van de ondertoon van je haarkleur (waar je je op dat moment niet bewust van bent), komt er een bepaalde tint piepen.
Heel vaak is dat een oranje kleur, zeker als je het blondeermengsel niet lang genoeg laat zitten in je haren. Je kapper kan dit dan ook veel beter inschatten en op tijd ingrijpen. Geloof me vrij, dit komt van iemand die met knaloranje highlights in haar toenmalig bruin geverfde haar mocht rondlopen tot er een goede kapper tijd had om mijn highlightfiasco terug recht te trekken 😉
Lang verhaal kort: ga voor all things kapsels eigenlijk best gewoon naar de kapper in je buurt! (maar… het is geen slecht idee om weg te blijven van de erg grote ketens… is het bij jullie ook zo dat ze daar iédere keer je haar volledig verknippen, lelijk verven,… en dat je eigenlijk na een halfuurtje alweer buiten staat? Maar dan wel een 100 euro armer?)