Laatste update
Op Pinterest zie je de origineelste hapjes en drankjes voor Halloween voorbijkomen! Ik vier het zelf eigenlijk niet echt, maar wie weet komt dat later nog wel. Dat wilt natuurlijk niet zeggen dat ik al die superleuke Halloweenhapjes en Halloweendrankjes niet ga plaatsen, want ik zou er zelf direct door in de keuken duiken! Kijk maar mee naar de duivelse cupcakes, spinnenkoekjes en zoveel meer.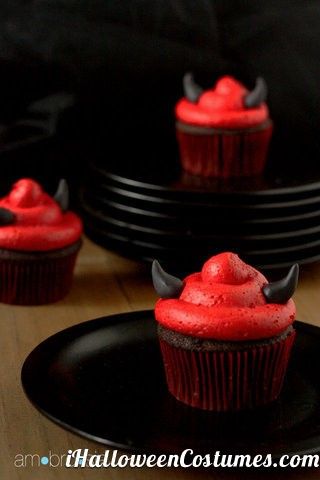 Cupcakes met hoorntjes van chocolade, yum!
  Duivelse spaghetti (de spaghetti is gekleurd en kan je zo kopen)
  Candied apples… maar met een twist. Alsof ze door lakleer gehaald zijn 😉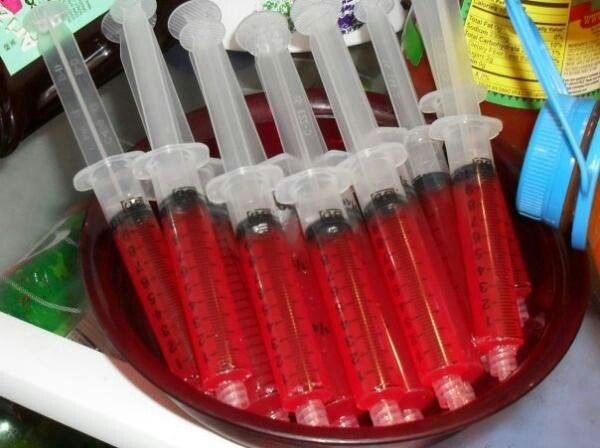 Jell-o spuitjes! Zo tof 😀
  Plastic spinnen in je ijsblokjes… ieh!
  Of wat dacht je van deze very charming dipsaus? Normaal ben ik gek op guacamole, maar euhm…
  Reese's cups (die zijn sowieso al to die for ha-ha-ha) met stokjes eraan: instant heksenbezems!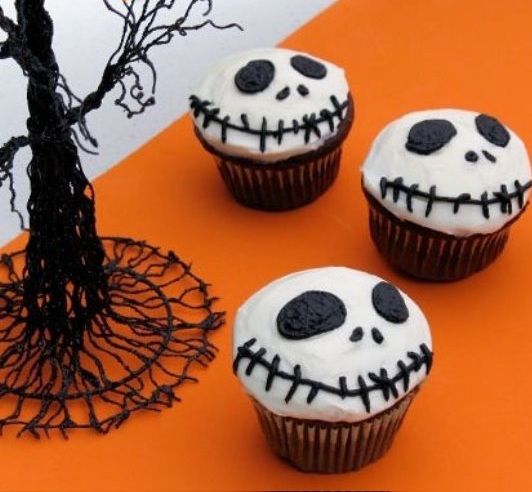 Jack-cupcakes! "What's this? What's this? There's cupcakes everywhere…"
  Mocht je nog restjes jell-o overhebben: gewoon icky wormen maken!

  Omdat het niet altijd ongezond moet zijn: boo-nana pops (en ja, ik lag strijk om de naam)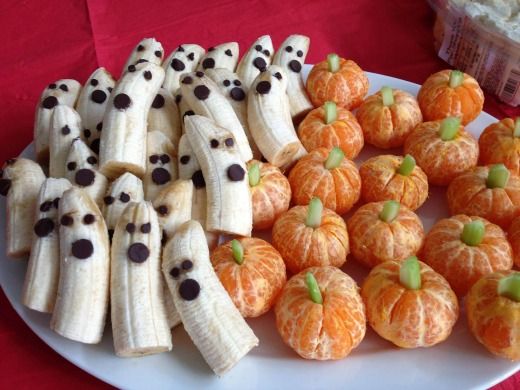 Fruit versieren voor een healthy halloween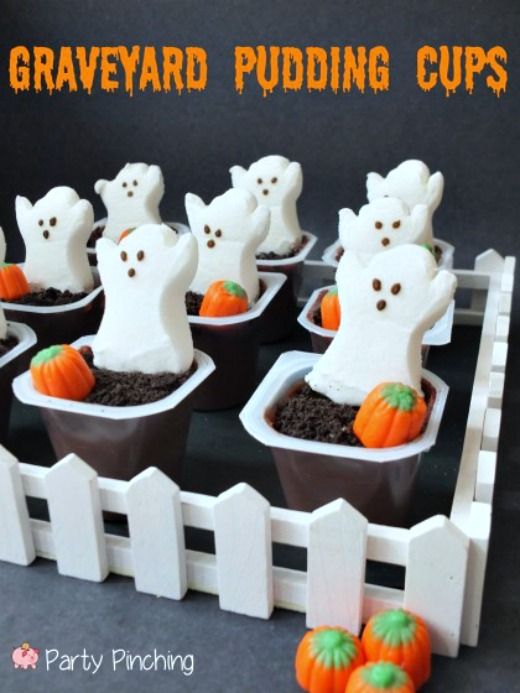 Kerkhof-puddinkjes met marshmallowspookjes, heel leuk gevonden!
  Oh-so-very Dexter: koekjes met bloedspetters erop!

  Een watermeloen snijden alsof het hersenen zijn. Braiiiiiiins!
  Niet veel tijd en gek op chocolate chip koekjes? Versier ze snel en maak spinnetjes van de chocolate chips. Ge-ni-aal, zeg ik je!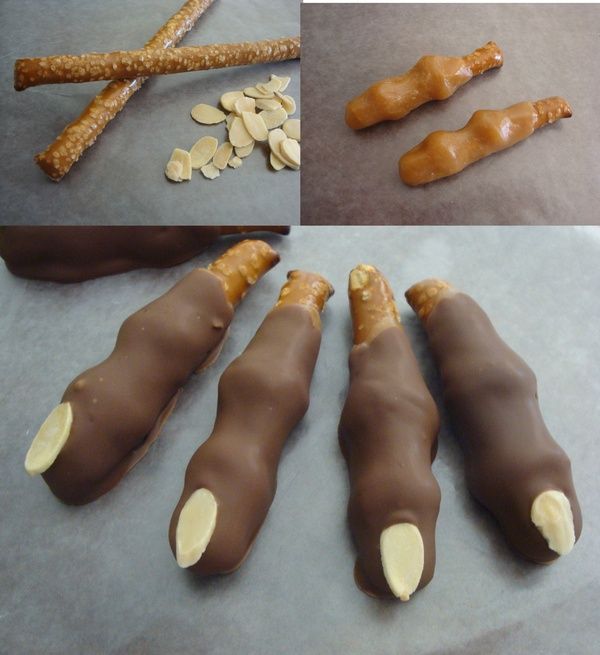 Wij nagellakliefhebbers gruwelen al bij het aanzicht van modale mensenhanden… laat staan voor deze yummie heksenvingers.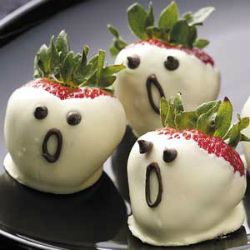 Spooky strawberries… al vind ik ze stiekem superlief, deze spookjes. En chocolade en aardbeien, dat kan in mijn ogen nooit mis gaan.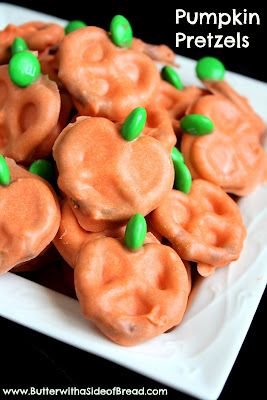 Kleur chocolade oranje (witte chocolade) met kleurstof die geschikt is voor voeding en doop de pretzels erin.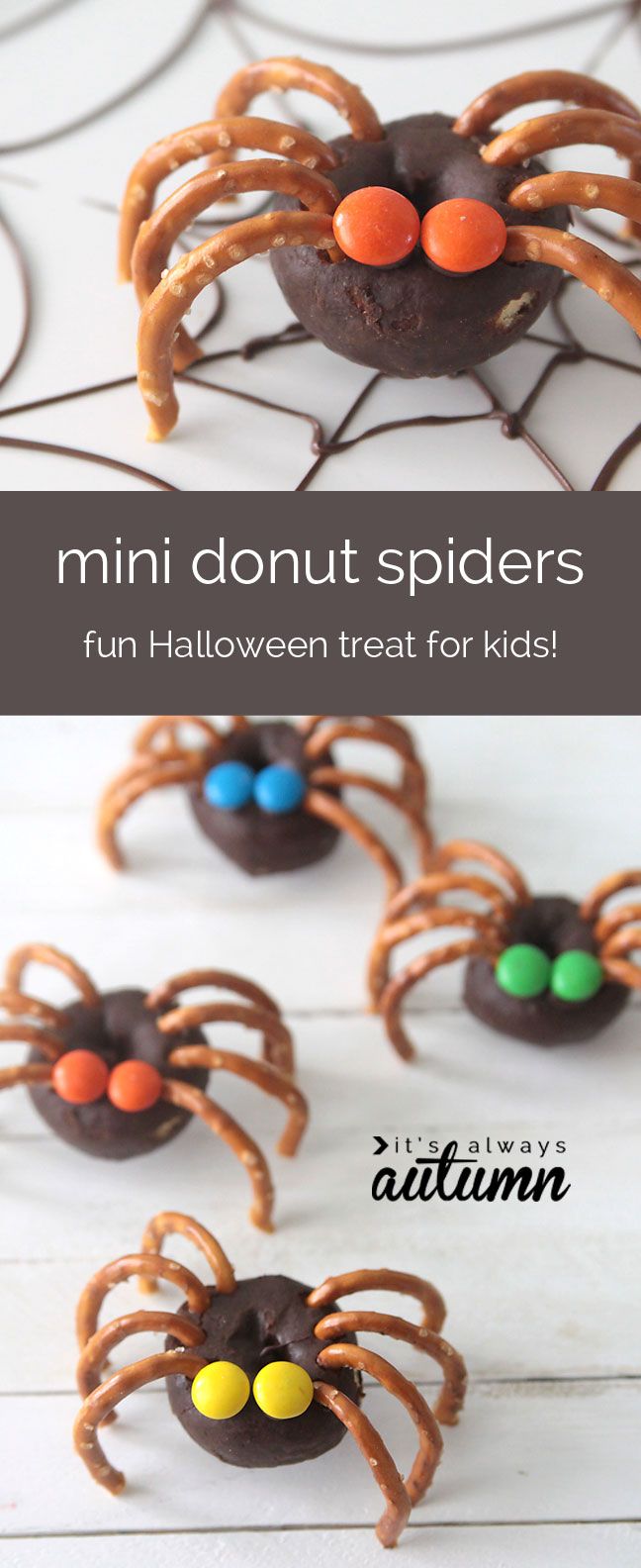 Of: je versiert minidonuts en maakt er lieve spinnetjes van. Seriously…waarom lopen deze schatjes niet rond in mijn appartement?