Laatste update
Back to school kapsels: nog op zoek naar leuke kapsels voor het nieuwe schooljaar dat eraan komt? Ontdek hier de allerleukste haartrends (yess, space buns!) en hippe kapsels die je kan maken nog snel-snel voor je naar school vertrekt. Heb je geen zin om urenlang aan je haar bezig te zijn voor je naar school moet vertrekken? Geen probleem! Deze back to school kapsels zijn ongelofelijk snel te maken. En… zijn dat niet de allerbeste schoolkapsels? Dat denken wij wel!
Lees ook zeker deze back to school make-up tips!
Back to school kapsels: paardenstaarten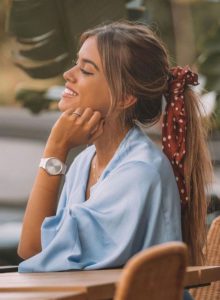 Deze leuke back to school kapsels zijn ook nog eens makkelijk te maken ook! Je hebt eigenlijk niet veel nodig qua producten om in je haar te doen, dus dat maakt het allemaal nog makkelijker: wooo! Hoe maak je deze look? Eerst begin je met een paardenstaart, een lage paardenstaart. Dan hangt het ervanaf welke van beide kapsels je graag wilt maken: dus je maakt ofwel een messy paardenstaart (haal enkele plukjes uit je staart en gebruik je toupeerkam om een beetje extra, messy volume te krijgen) ofwel knoop je een mooi sjaaltje in je paardenstaart.
Ontdek nog andere kapsels: korte kapsels, feestkapsels voor lang haar, feestkapsels voor kort haar, kapsels voor dun haar, kort haar met krullen, kapsels met pony
Bobkapsels, kapsels voor halflang haar, vlechtkapsels
Half opgestoken kapsels: perfect voor school
Nog een type kapsel dat je heel makkelijk én snel kan maken: neem een stukje haar en knoop dat vast (zie de derde foto) door er een knotje van te maken, of maak een leuke vlechtkroon. Ontdek nog meer leuke kapsels voor halflang haar.
Back to school kapsels: knotjes (top knot kapsels)
Dit kapsel is al jarenlang een grote favoriet, dus ook helemaal niet gek dat dit kapsel ook supervaak gedragen wordt om naar school te gaan. Je maakt snel even een grote top knop (nog meer knotjeskapsels) en hoppa, je kan de deur uit! Kan wel tellen als back to school-kapsel he?
Heb je niet genoeg haar om zo'n top bun te maken? Ik ken het… ik ook niet hoor! Mijn haar wordt dunner en dunner met de jaren, dus ik kan alle hulp echt wel gebruiken als ik een knotje maak! Jij ook? Dan kan ik je zéker aanraden om een haardonut te gebruiken!
Dé haartrends van 2019 op school: space buns
Eerst vond ik dit vooral een hele grappige haartrend en dacht ik helemaal niet dat deze space buns populair zouden worden. Boooooy, was I wrong! Dus wel, he! Als je fout zit met een trend, moet je dat ook gewoon kunnen toegeven. Ik vind het eigenlijk ook wel heel erg tof staan. Draag jij vaak space buns en heb je nog leuke tips om je space buns leuk te stylen? Laat het zeker weten in de comments!
Terug naar school kapsels: half opgestoken kapsels
Tenslotte de laatste haartrend qua schooltrends: de half opgestoken kapsels! De laatste jaren zijn deze kapsels zo populair en je kan ze ook supermakkelijk maken om naar school te gaan.
Makkelijke haarstijlen voor school
Hoe vinden jullie deze super makkelijke haarstijlen voor school of werk?